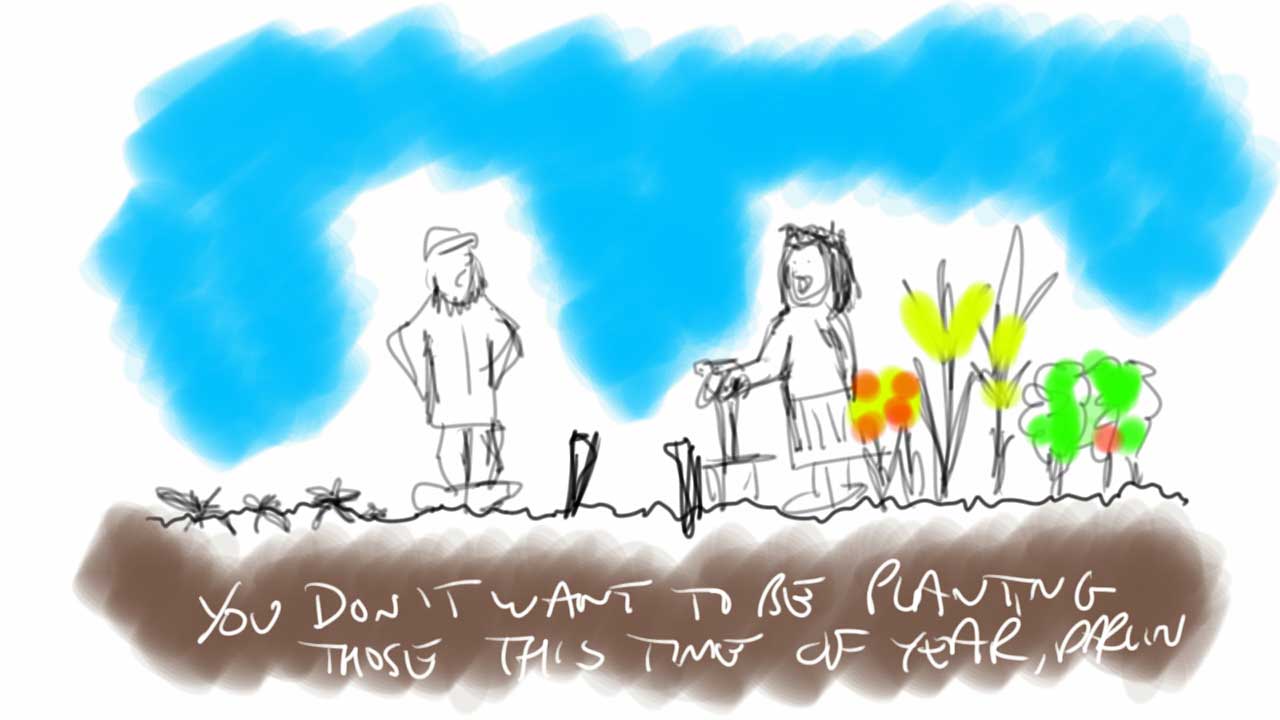 Like a bad potato in the sack that risks rotting the whole harvest unless it's identified, women on the allotment can still unearth the weeds of sexism popping up in an otherwise wonderful crop…
I was recently asked to write 'a women's perspective of the allotment' for my allotment field's bi-annual newsletter – and I found it a tricky one. Is my perspective necessarily different from a man's? Is there a female way to grow-your-own? We're all knee deep in the same mud, after all.
While this lesser-spotted sexism is a rare sighting, on some plots there is still the compost-tea whiff of the 'allotments of yesteryear' (all flat caps and Exhibition onions) that assumes all female allotmenteers wear ditzy aprons and 'Lady Gardener' gloves; that we can't possible get our hands dirty; and that we're more concerned about the interior décor of our shed than how our courgettes are doing.
I've been muddying the waters of this stereotype for 10 years at my plot, and while my 13 years growing experience is no match for the likes of Christine Walkden or Alan Titchmarsh, I know my onions.
I'm a third generation gardener from a long line of male and female gardeners, taught from a young age that even the fussiest fruits don't give a gooseberry if you sow and grow wearing skirts or slacks.
Which is why I might tighten my grip on my spade when a cheery "you sure you know what you're doing with those potatoes, love?" rings out across the plot, or – on those very rare occasions my husband appears on the allotment – it's assumed he's done all the hard work.
Yes, I grow flowers, but it's less aesthetics and more (like all parsimonious allotmenteers) to save money on buying cut flowers. And, anyway, many of the UK's foremost flower experts – think Kent's Dahlia-king Darren Everest – are blokes who love blooms.
I'm proud of my plot looking good, but that's down to my tendency for OCD rather than my gender, and my ordered beds will always pale into comparison with the regimented rows of many of the male growers nearby.
While I might have an annual subscription for wet wipes and handwash, it's not about girly sensibilities either. When I garden, it's not just my fingers that get dirty, it's my arms, legs and face that get dragged backwards (and forwards) through the mud and blackberry brambles, and if I didn't give a nod to cleanliness I'd be doing the school run still smelling of nicely matured compost.
I'll also confess to the odd flowery cushion and carpet in my shed, but I'm only aspiring to the example set by my granddad whose three-room plot 'apartment' came complete with settee, wallpaper and makeshift kitchen.
And, while his plot palace, like mine, didn't boast a toilet – let's set the record straight: we women growers make do just fine when nature calls, and are happy to activate the compost heap like the rest of you.
At allotments across Britain, the number of young and/or female gardeners continues to increase, and most fields thrive on their inclusivity and acceptance. Here, the sense of community grows as sturdy and strong as the sunflowers.
Ultimately, the allotment is where we all go to escape the rigours of modern life, whether that's the nine-to-five, the gym treadmill or the cold calls. At the allotment, religion, politics, race, gender and sexuality will always take a back seat when it comes down to the size of your parsnips.